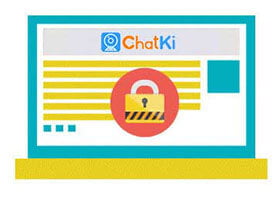 Many people have reported getting banned on Chatki, and there is usually a valid reason why! Receiving a chat ban can happen for a large number of reasons. First of all, it is important to take a look at the rules page when using a video chat site. We have a unique set of rules, so it's essential that you know the rules for our site before you start using it. Knowing the rules will allow you to avoid getting banned in the first place.
Once you have read the rules, it's important to respect them. Most people end up getting banned from our site because they disrespected the rules. For instance, someone may receive a ban because they did something against our rules while streaming on webcam and or they bullied others. Even asking others for information and pressuring them to give you their information can result in a ban from the site.
If you have received a ban, there are sometimes ways to get unbanned if it was a mistake. First, you can begin by waiting a few minutes and trying to refresh the page. Most of the time, the first time you get banned is only for a short duration.
If the above doesn't work, you should consider contacting our site administrator if indeed it was an error on our part. Request that we directly unban your IP address and state the reasons why you feel the ban was unjust. Be patient with this process as it could take a few days for the support team to respond to your request.